I get woken up (way too early I should add) by a variety of bird calls, but the laughing kookaburra certainly seems the loudest!  Luckily I enjoy seeing a kookaburra in my garden so I don't complain, well not too much anyway!
I have quite a few laughing kookaburra images to share and I've finally gotten around to creating my first kookaburra greeting card on Zazzle from one of my recent visits from a kookaburra.
As you know from earlier posts I do love birds and I have a variety of them residing in the trees around me from Turtle Spotted Doves to Rainbow Lorikeets, Australian Magpies to Kookaburras and many more.  The Kookaburra is certainly loud enough to herald his presence, but I don't catch a glimpse of him as often as the others.
Occasionally he'll grace me with his presence, sometimes fleetingly and sometimes it's as though he's decided he wants to be a model as you can see here –
He really did seem to want to make sure I got all of his sides, didn't he?   Definitely a model bird in the making!
After a while he seemed tired of my pool fence and flew up into one of the trees bordering my garden where he preened for the cameras for a little longer.   One of those photographs is the one I've made this blank greeting card from –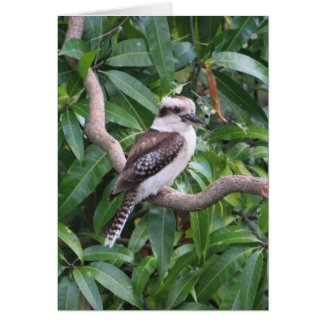 Laughing Kookaburra Greeting Card

&
As you can see from his profile our Laughing Kookaburras belong to the kingfisher family.
Note: The author may receive a commission from purchases made using links found in this article – more information can be found on our disclosure page.