I took a photo of something my daughter and I used to call Happy Rock quite a few years ago and the design is available on a couple of products on Zazzle.
It's not often that I would point out graffiti as something positive, but this was just an ordinary rock by the side of the road until someone painted a happy face on it.
My daughter had just started Primary School when we first noticed Happy Rock (as we named this graffiti smiley faced rock) and on one day she was very grumpy and didn't want to go to school.   I happened to notice the rock and as there were no vehicles behind me I slowed down and reversed telling her to look out of the window.
'It's a Happy Rock!' she exclaimed and from that morning on we would wave to 'Happy Rock' on our way to school.   My daughter has long since left that school and I drove past the spot for the first time in years to see that Happy Rock is no longer there.
The photo I took was with a very old digital camera and really was very much a 'snap' as opposed to a well taken photo – the product is popular though.
I think what makes the design popular is definitely the subject so when you're taking photos don't forget to look outside of the box – a graffitied stone is not what I would think of photographing, but sometimes you capture an emotion at the same time.
Let me introduce you to Happy Rock –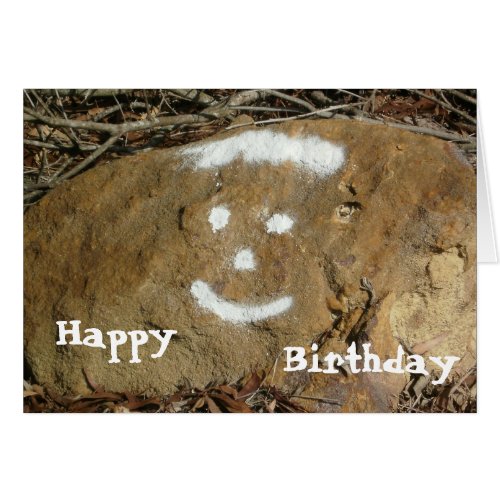 Graffiti Happy Face Birthday Card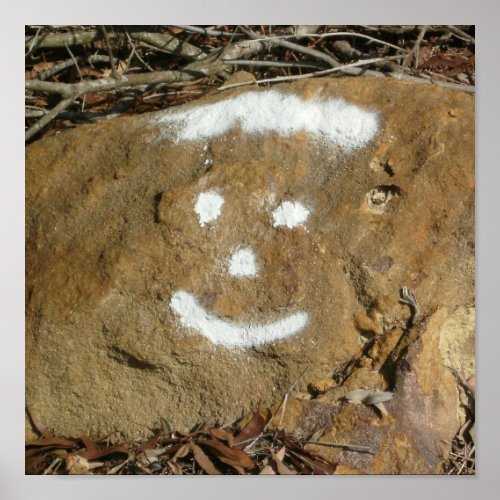 Be Happy Poster

&
I'll admit the poster hasn't sold (in memory), but I like the idea of it, the birthday card has been and continues to be very popular however.
If you're not smiling looking at these products then I'm a little concerned about you!
Note: The author may receive a commission from purchases made using links found in this article – more information can be found on our disclosure page.